A small duty-free shop will be located at the arrival lounge. (SCAA)
Travellers entering  Seychelles will for the next few weeks have to rely on the services of a smaller temporary duty-free shop at the arrival lounge, as the current one, run by Seychelles Trading Company (STC) is being refurbished.
This was revealed to reporters on Thursday by the airport manager, Eric Frost, during a media visit at the Seychelles International Airport of Pointe Larue.
"STC Duty Free shop will relocate to a new temporary shop at the luggage collecting area, with the works expected to last for up to eight 8 weeks," explained Frost.
He said that STC wants the Duty Free shop to offer a five-star shopping experience to clients.
"With the new shop set to take up some space in the luggage bay, we will move some of the trolleys around to ensure that the visitor experience is not affected," he added.
The STC Duty Free shop at the airport located in both arrival and departure terminals offers a variety of international luxury brands of perfumes, wines, chocolates, jewellery as well as high quality local brands of beverages and gifts. 
During the visit, the media was also briefed on the various works being undertaken at the airport, including revamping the international terminal which started in late 2021.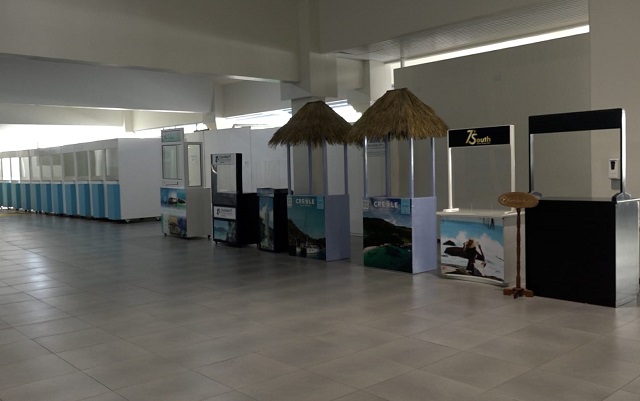 SCAA has been able to increase the space available by rebuilding the destination marketing companies kiosks. (SCAA) Photo License: CC-BY 
"The work that we have done will enhance the visitor experience. We have been able to increase the space available by rebuilding the DMCs (destination marketing companies) kiosks and making them more compact. We have also placed new lights, ceiling, and flooring as well," said the head of infrastructure projects at Seychelles Civil Aviation Authority (SCAA), Marlon Santache.
The total cost of the refurbishment project budgeted at SCR14.2 million ($1 million) is expected to be completed in December.
Another area that has seen improvements is the security and vehicle movement in new parking areas.
According to Dyan Vidot, the aviation security manager of implementations, these changes have made movement at the airport much more fluid, with less congestion from cars waiting to pick up families, friends, or clients.
"Now rather than everyone queuing up at the arrival terminal, people leave their cars at the designated parking areas and this has therefore greatly limited vehicular traffic at the airport, making it safer for clients," Vidot explained.
The Seychelles International Airport was opened in 1972 and in order to meet and cater to the present demand, a new development plan was announced in 2022. It includes a bigger passenger terminal, an airport hotel, moving the fuel farm and sewage facilities, a new cargo terminal, a new VIP complex and a technical zone.